Find a Montreal Veterinary Clinic or a Montreal Vet

Here are our Current Montreal Veterinary listings:



Emergency
Veterinary
Clinics

Centre Veterinaire DMV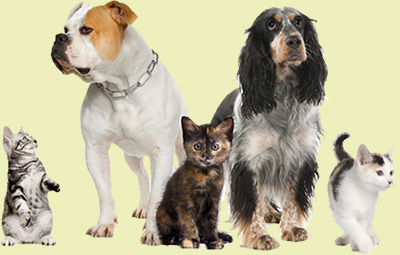 2300 54th Ave
Lachine, QC
H8T 3R2
Tel: (514) 633-8888
Fax: (514) 633-0525

Hopital Veterinaire
Rive-Sud
7415 Taschereau Blvd.
Brossard, QC
J4Y 1A2
Tel: (450) 656-3660
Fax: (450) 656-5708

Faculte de Medecine
Veterinaire
3200 Sicotte
St-Hyacinthe, QC
Tel: (450) 773-8521

Recommended Veterinary Clinics


The Animal Health Clinic
(this is the vet clinic where you can find Dr. Elkin Seto)
5601 Sherbrooke St. West
Montreal, QC
H4A 1W4
Tel: (514) 369-9119
Fax: (514) 369-7885


Pierrefonds Animal Hospital
16628 Pierrefonds Blvd.
Ste-Genevieve, QC
Tel: (514) 626-9890
Fax: (514) 626-0241

Sherwood Park Veterinary Hospital
275 Elm #14
Beaconsfield, QC
Tel: (514) 674-2004

Cote St-Luc Animal Hospital
7930 Baily
Montreal, QC
H4W 3J8
Tel: (514) 489-6845
Fax: (514) 489-6509

Montreal West Veterinary Hospital
66 Westminster North
Monteal, QC
H4X 1Z2
Tel: (514) 484-3730
Fax: (514) 484-5994

Hopital Veterinaire Oiseaux et Animaux Exotiques Montreal
6090 Sherbrooke St. West
Montreal, QC
Tel: (514) 486-5258
Fax: (514) 486-6896


Montreal Vet
Directory
About us...

When we adopted our first cat in 1993, we had no idea where to go for veterinary care. Many adventures followed, some good and many not-so-good.
As our animal family has grown, we have come recognize the importance of having a good vet and clinic that can be called upon in times of need.


The purpose of this website is to pass along a selection of good bets for you and your animal family. Our listings contain clinics we personally recommend and clinics recommended by close friends and colleagues.


May you and your pets be happy and healthy!

DMV Center

In addition to a complete crew of specialists, the DMV Veterinary Centre offers you rapid access to 24-hour/365-day emergency medical services, without appointment. A complete team – veterinary doctors, technicians and assistant technicians – will take charge of you and your pet as soon as you arrive.

514-633-8888
1-800-463-8555

Beautiful...It looks great on you...Congrats!!! The more i see this bag, the more i'm liking it.... louis vuitton replica
,
I totally agree. She definitely has the best collection I have ever seen. She is still on TPF because she logged in at 11:16 today. For some reason she's not posting and has not since last year. I saw in her thread where some people made some negative hurtful statements so maybe that's why. Whatever the reason, she is missed and the majority of us here love her collection and are sincerely happy for her and the fact that she shared it with us. louis vuitton outlet
,
here let's see lv bags
,
Mark !!! Acabei de ver que falas Portugues! tablets android
,
iCeline Black Smooth and Leo Shoulder Luggage! She is styled with Chanel and Valentino. I would not put the scarf ON HER but it I like to keep them with me during the summer because my hair is getting long so I would probably just let it show a bit!/i louis vuitton purse
,
,
Congratulations!! Your post made me run to get my first too =] I'm glad you had a great experience...enjoy her she looks great on you!!! louis vuitton bags
,
.